Here is bush craft knowledge.
Soon Ill get a raincoat. Im looking at different options. If you walk outdoors, in the non-urban areas, where there is NO SHELTER, then you need a system to cope with the rain.
Currently I have as follows: When walking I have my pack. In the pack two outer quick access pockets are a folded up umbrella and a plastic poncho. This works well in light to medium rain. But in prolonged heavy rain ones lower legs and ones arms get soaked.
I believe the solution is to get a raincoat. Being tall I need one that is long enough to extend down to the ankles. That would replace the poncho and coupled with usage of the umbrella, I would stay nice and dry in rain.
Another aspect why a ponch is not good enough, is because one walks through forest and EVERY shrub is laden with rain droplets and after you brush past shrubs and tree leaves you are already soaked on legs and arms from that. A nice fairly light weight plastic raincoat would prevent this saturation of water.
The design I like best is the WW2 Wehrmacht coat. Keep in mind you dont always use a raincoat and storage size is a huge factor. If your raincoat is made of leather, for example, it wont store well, being much too bulky.
I know of several raincoats from my own experience. There is the old model Australian Army raincoat, olive drab in colour and of a distinctive smelling plastic "Smells like spew". It has no pockets and is button front. It works ok in the rain, provided its long enough to fit properly.
Next is the latest model Australian Army rain coats called 'Japara'. Japaras are basically AusCam pattern plastic cloth material raincoats, usually extending down to above the knee. They have external pockets and dont smell like vomit. They also have a hood. They are waterproof and really excellent rain coats. However Id personally like one that went down to the ankles, which unfortunately they dont make.
Australian Army Older Model Rain Coat "Smells Like Spew"
Swiaa Army Rain Coat 6 Euros, sizes for up to 195cm height.
Wehrmacht field coat – looks cool.
DrizaBone – A classic Australian farmer's outdoor coat, made of 'oil skin' Too heavy to pack away though. Also expensive.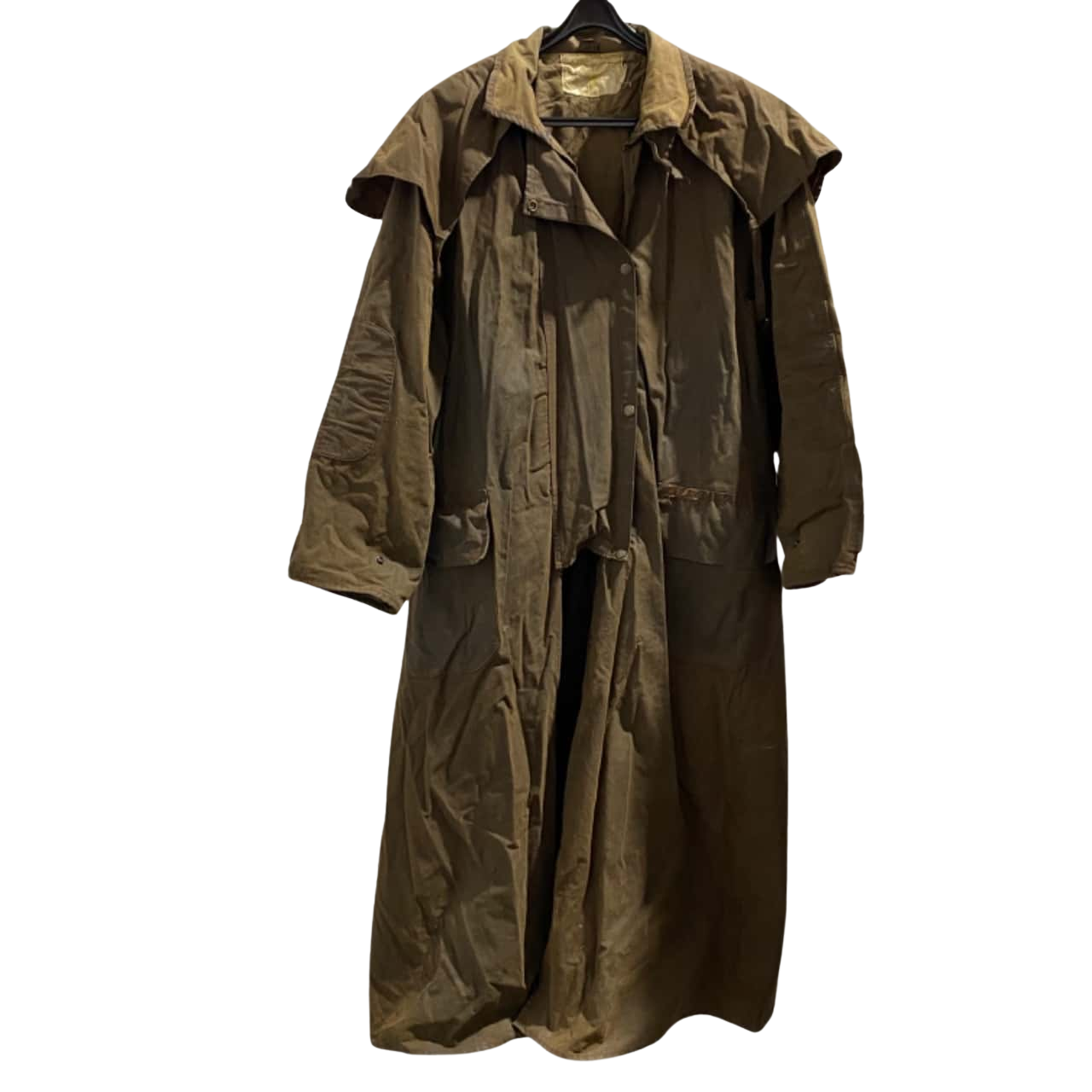 Japara Current Model Australian Army Rain Coat. – Pricey, but really high quality and comfortable and waterproof. Also has pockets (more important than you'd think).